Ken Collins Marketing
Local SEO
Search Engine Optimization
You think Facebook is big?  Well, Google is even bigger . . . and people use it to find the things they need or want.  Can they find you?  Can they find your competitors?
Local SEO services are often overlooked by small business owners.  You don't understand the concepts and opt for more "sexy" avenues like social media.  While social media is great, Google still rules the Internet . . . and the people who are searching right now expect to find what they're looking for right now.  Will they find you?  Search traffic is your most powerful marketing tool of any kind – let's make sure you get found in search results!
87% of people who search for a local business call or go to that type of business within 24 hours.
WAIT!
Before you Get Started . . . we need to talk.  We take this service very seriously and want every one of our clients to get the best results possible.  For that reason, we don't work with competitors in the same market.  To ensure we're not already working with your local competition, you need to schedule a consultation with Ken.  This will be a quick and easy call to determine if we can work with you or not.  If Ken determines that we can work with you, we'll turn away your competition and ONLY work with YOU in your local market.  Just click the button below.
We take care of the core pillars of Local SEO
Website
The centerpiece to your organic rankings.  We take care of all your onsite SEO from on-page, to technical issues, to UX, and much more.
Google My Business
Google My Business is a critical part of getting visibility locally.  We can create your listing or fully optimize existing listings, along with advanced troubleshooting via direct contact with the Google My Business team.
Aggregators/Citations
We create manual submissions on the top aggregator and citation sources, along with city and industry specific citation sources.  Along with NAP cleanup and duplicate suppression.
Links
We build genuine local backlinks based on your relationships, competitors, local analysis, and manual outreach – giving you hyper-relevant local inbound links that count.
Reviews
Reviews are the cornerstone to creating trust with potential customers.  Our turnkey review system with SMS feature will get you reviews quickly and effectively.
Analytics & Conversion Tracking
Once we have setup a solid Local SEO foundation, we implement our analytics and feedback system with its 9-step tracking process for delivering amazing insights about the way people reach the site and interact with it. These valuable insights in part formulate our data-driven SEO task list starting from month 7.
You Get:
18 manual hours a month (working on the most important areas in the core pillars above)
2x articles per month (front loaded, 12 articles every 6 months)
Fully branded review funnel (for easy review collection)
Monthly reporting
What the heck does all this mean?
We understand.  Search Engine Optimization (SEO) is a complicated thing to understand.  The nutshell explanation is this:  your customers are searching for you online, and if they're not searching for you specifically, they are searching for your products and services.  We spend lots of time in lots of areas to make it as easy as possible for your customers to find you instead of your competition.
Tested & Proven Techniques
Some SEO companies get carried away with the latest fad or "gaming Google technique" instead of actually spending the time to get your core building blocks in place.  What we described above are the core building blocks of Local SEO.  We have taken lots of time and effort to create this system to cover all the key areas of Local SEO.  The bottom line is this:
With our services, you get a solid foundation, ongoing optimization, and simple reporting . . . all in a simple, flat-fee service.  The only thing you need to focus on is running your business.
Need Something More Affordable?
If these plans are a little out of your reach, then take a look at our Review Management service.  Because online customer reviews are so important to Local SEO, we include Review Management in our Local SEO service.  However, we've pulled it out and can offer it as a separate service with a much smaller price tag.  This will give you a good start . . . and you can upgrade to a full Local SEO service later.
Measurable Results with Local SEO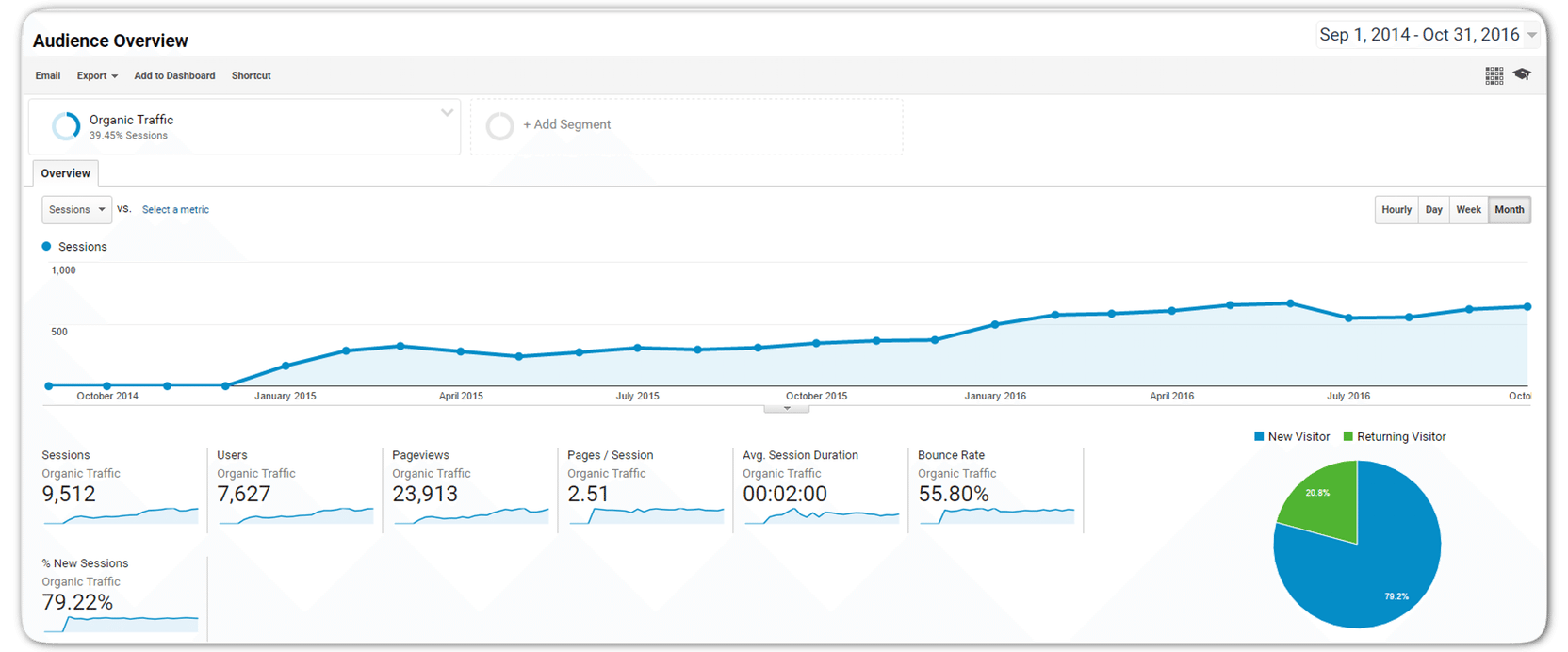 Employment Attorney
Traffic Increase between Jan 2015 and Oct 2016
Work began in the beginning of Jan 2015.  Traffic increased in 2015 from Jan starting at 164 sessions to over 300 sessions per month – ending in an increase of 180% growth over the year.
In 2016, there was already an increase of 45% over the 180% increase seen in 2015 as of Nov.
This 45% increase was also across all pages viewed with a modest increase in the number of pages deep each potential client viewed, showing greater engagement.
Foundation Company
70% increase in traffic against same period in 2015
a comparison of Oct/Nov 2015 and Oct/Nov 2016 shows a 70% increase in traffic from the previous period.  Not only that, but there have been dramatic increases in nearly all other metrics, including:
New users:  58% increase
Page Views:  87% increase
Bounce rate:  12% reduction
Flooring Company
487% No. 1 ranking increase over a 4-month period
As a rule of thumb, we tell all of our clients that they may not begin to see real results until after the first 6 months.  However, that doesn't mean it can't happen sooner – as in the case of this flooring company, where keyword rankings dramatically increased towards the end of month four.
No. 1 Rankings:  From 8 to 47 – an increase of 487%
Rankings 2 – 5:  From 27 to 48 – an increase of 77%
Rankings 6 – 10:  From 6 to 29 – an increase of 383%
Frequently Asked Questions
Why Don't You Do Backlinks?
We would be lying if we said backlinks aren't important, they are! However when it comes to the local search engines, having a hand full of high quality links that are built on genuine relationships you have within your community will produce ranking results way beyond anything an SEO company could produce by forcing regular backlinks to a website.
How Long Does It Take To Rank?
We cannot in all honesty give an absolute time frame for you. In fact you should be very wary of any SEO company who guarantees ranking positions or time-scales. The truth is that Google doesn't actually let people know what its ranking factors are, only that there are many. The one thing that we can guarantee is that we will implement the best industry-leading strategies and abide by Google guidelines and terms of service.
Do You Offer Weekly Reports?
No, we offer monthly reporting. We find because SEO isn't usually just a smooth steady climb week by week, showing you an average of the progress over a month is a much better visualization of how your website is moving forward.
Do I Have to Sign A Contract?
We have a short (easy-to-understand) terms of service agreement that you should read before making your first payment. This is a month-to-month service, and we mainly have the agreement in place to establish the requirement of a 30-day cancellation notice.
We often find that your website needs work before we start SEO efforts.  How does yours look?
Kayce to the Rescue!
Need help?  Just hit the "Get Support" button below and talk to Kayce, our Messenger Bot.