Ken Collins Marketing
Review Management
Online Review Management to get more online reviews is the single-most cost-effective bit of content marketing you can do for your business.  Only, "you" can't do anything – your customers have to spread the good word about your business for you.  But how?
Try the world's most effective online review management solution RISK FREE for 30 days:
Free 30-day trial
automated customer review campaigns
comprehensive review tracking and alerts
and a "review stream" that automatically publishes your latest and greatest reviews to your website and social media profiles.
Custom short URL(s)
Landing page to get customers writing reviews
Use your own branding and colors
Automated email drip campaigns to get customers reviewing
Embed your landing page and "Review Us" button anywhere (not included during trial period)
Recover unhappy customers before they review
Add unlimited local and industry review sites (TripAdvisor, Zomato, DealerRater, Healthgrades, etc.)
Attach coupons and offers to your page to drive more reviews 
(not included during trial period)
Collect reviews directly from customers
Track campaign performance
Monitor all major and industry-specific review sites
Get near real-time review alerts from around the web
Stream your latest and greatest reviews to your website (not included during trial period)
We do all the work – you get all the benefit!
Step 1
Systematically drive customers to one conversion funnel that routes them to the review sites you care about.
Step 2
Increase review volume and quality by automatically asking, reminding and guiding happy customers through the process of completing a review.
Step 3
Get a second chance with unhappy customers by guiding them to a service recovery.
Step 4
See results with beautiful monthly reports that demonstrate reputation improvement alongside actionable insights into campaign data.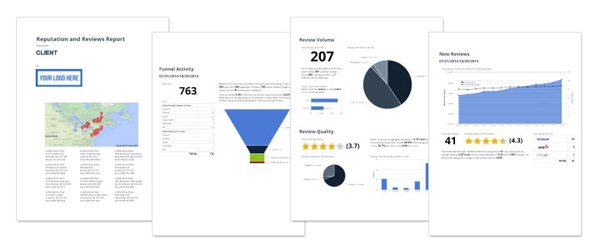 Step 5
Monitor reviews left all over the internet in one place. Leverage and amplify 4- and 5-star reviews by automatically streaming them to your website.
Review are so important to search engine optimization, that it's included in our Local SEO service!
Kayce to the Rescue!
Need help?  Just hit the "Get Support" button below and talk to Kayce, our Messenger Bot.