Ken Collins Marketing
Website Design
We know where you stand.  Many business owners have a tiny budget, but big dreams.  That means the potential for profit after paying for an expensive website project is slim to none.
We've developed a system of designing websites that allows us to drastically lower our costs and offer amazing website design solutions to you at affordable prices.  You can stick to your dreams without breaking your budget!
The perfect solution for a beautiful, affordable website design
Your website is the hub of all of your digital marketing activities . . . it is a living, breathing marketing machine . . . or at least it should be.  Our team of designers are top-notch.  Add that to our experience turning website traffic into paying customers, and you have a beautiful, reliable marketing machine that works for you night and day.
More than that . . . we don't just turn your website over to you, wish you luck, and walk away . . . we stick around and support you and your website with our Unlimited Flat-Fee Website Support service.  You never have to worry about updates to your website – we do that for you – without charging you more fees to do so.  We handle your hosting and unlimited support . . . all for one low monthly fee.
Website Design w/Bundled Support
Our Bundled Plan allows you to save money by paying for everything up front.  In order to get this design price, you are also required to purchase the Yearly Support Package along with your design – so your total up-front cost is $1,000.  Why do this?  Not only do you get 2 months free by paying for your Support on a Yearly plan, we give you a discount on the design cost by making 1 up-front payment of $1,000.  You save a total of $470 on website design and 12 months of Support.
Flat-Fee Design & Flat-Fee Support
No matter which option you choose, you will enjoy one fee for your website design with unlimited revisions until you're happy with the design – we don't charge you anything more for our design services.  When your site is launched, you also receive unlimited hosting and unlimited support.  Everything you need to keep your website up and running, safe and secure, and any content changes you need at any time – no matter how many changes you have – it's all covered in your Support Package – we don't charge you anything more for our support services.
$750 Website Design
Our $750 Website Design option gives you the flexibility you want on how you pay for your Support.  You pay $750 up front and we begin work on your website.  This fee will carry you all the way through to the launch of your new website.  Once your website is approved and ready to launch live, you will have your choice of making Monthly Support payments, or getting 2 months free support by making Yearly Support payments.  There is no need to purchase a Support option at this time.
How Do You Order a Website?
Choose one of the two options above (click it and purchase) – either the Website Design w/Bundled Support for $400 – or – the Website Design for $750.  If you purchase the Website Design w/Bundled Support, you will also need to purchase the Yearly Website Support service along with your design.
Schedule a consultation with Ken.  During this brief consultation, Ken will discuss the process with you (below), go through starting theme options to be customized for your new site, and get your logo and other pertinent information.
What You Get & How it Happens
What's Included
Customized Design with Unlimited Revisions
Our designers have a full library of beautiful and highly-functional WordPress themes to get you started.  These themes are HIGHLY customizable.  Add that to unlimited revisions, and you end up with an affordable website design that is uniquely yours without paying a ton of money for a design from somebody else that's going to take longer to complete.  In addition, every site we build is mobile-responsive . . . so your website will look great and work great on any screen size.
Built Using WordPress
Our themes were built specifically for WordPress.  Every site we do is built in the most recent version of WordPress with the best editing and security features built in.
15 Initial Pages
Your initial site may include up to 15 pages (Ken may allow more on a case-by-case basis).  With the Support Package, we can add up to 5 new pages each month.
2 Custom Web Forms
We want to make it easy for you to convert your website visitors into customers. We provide 2 custom web forms (with up to 10 fields) to help with this process. This is on the initial design – we can add more forms later under the Support Package.
Social Media Integration
We understand the importance of social media. We will add any requested social media icons to connect to any social media accounts you might have.
Videos and Images
Videos and images are a huge part of any business. We will integrate image galleries and video galleries to make your website truly shine. You must provide the images and videos.
E-Commerce Integration
Your affordable website design will include integrated e-commerce integration (if required) using WooCommerce so there's no need to seek a separate e-commerce solution if you need to sell online.  It's built right into your website from the very beginning!
Our Process
Purchase Package(s)
Choose which package fits your budget best.  Either pay one fee up front and have a choice of your Support payment options when you site is ready to launch – or save money by paying for your Design & Support up front.
Consultation & Survey
Ken will consult with you to gain some basic information that we can provide to our designers to complete the initial customization of your chosen theme. He will talk you through this process and answer any questions you might have.
Choose a Theme
During your consultation with Ken, he will ask you to look through our collection of WordPress themes.  This is the part of the process that allows us to drop our price so significantly on our website design service . . . we've already taken care of the heavy programming up front so we don't have to charge you for it.  When choosing a theme, you're looking for built-in functionality that you like.  The look and feel of the theme can be highly customized to fit your needs . . . to the point of no longer resembling the original theme.
Development Stage
Our development stage takes roughly 10 business days to complete the initial customization of your theme and place it on our development servers. We will need content from you during this stage to speed up the content & customization stage. You also provide us with any images and/or videos, social media links, etc. for inclusion during the content stage.
Content & Customization Stage
During the content stage, we will incorporate all content and links into the site on the development server.  We also work with you to re-arrange, change, and customize the website look and feel to fit your brand and your needs.  During this stage, we rely heavily on you to provide us with everything we need to launch your website live for the world to see.
Launching Your Website
Once we have all of your content on the site, customization complete, and receive final approval from you, we will prepare the site for launch.  This process takes roughly 3-5 business days.  This is also when your website support begins.
IMPORTANT
We will need your domain login information BEFORE we can launch the site.  Your domain will remain pointed at your old site (if you have one) until you have given final approval on your new design.  Once you've given that approval and the go-ahead to launch, we will begin preparing your new site to go live.  The last step to launch your website is to point your domain to your new site – we MUST have your domain login information in order to do this.
Website Support
Also, BEFORE we can launch your new website design, you will need to choose a Support option.  If you purchase the Website Design w/Bundled Support, you are taken care of.  If you purchase the $750 Website Design option, you will need to purchase either a Monthly or Yearly option for your Support Package.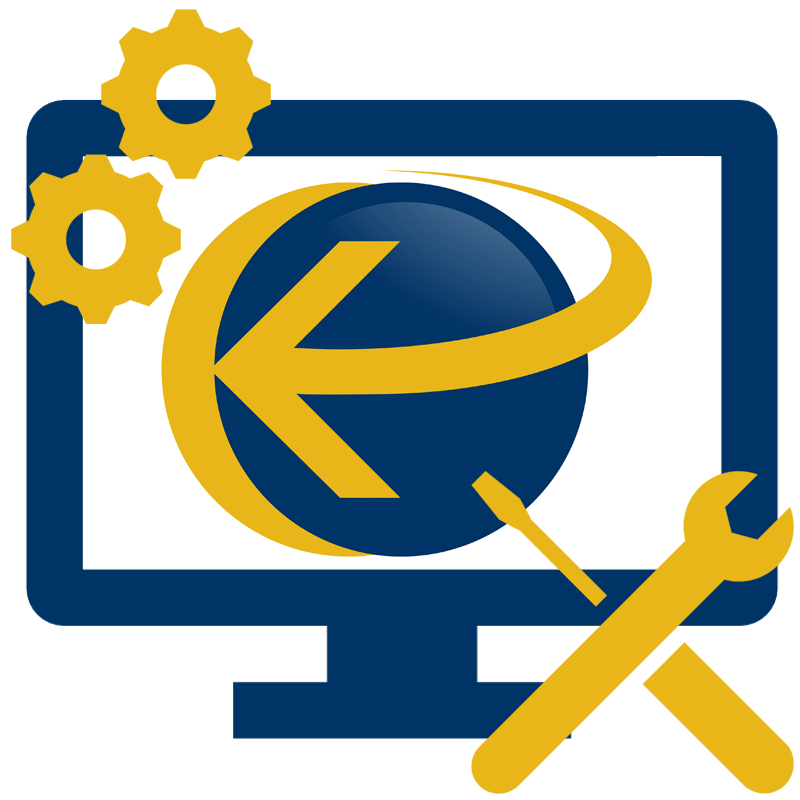 Our flat-fee Hosting & Support package is amazing!  Take a look at how we support your website.
Kayce to the Rescue!
Need help?  Just hit the "Get Support" button below and talk to Kayce, our Messenger Bot.